featured interview
Blaq Poet
A quick Q&A with Blaq
1987: (Blaq) Poet first appears on hip-hop's horizon with Noel Rockwell on the 'Beat You Down/The Wop Sensation' 12". 1989: Poet teams up with another Queensbridge homie, Hot Day Dante, with whom he releases the classic album 'PHD: Without Warning'. 2000: Poet enters the new millennium as Blaq Poet with Queensbridge associates Hostyle, Solo and KL (RIP) as the group Screwball. 2009: Blaq Poet releases his debut solo album 'Tha Blaqprint', a record that tells you how hardcore hip-hop is supposed to be: hard, core but driven by feelings of passion, grief and determination…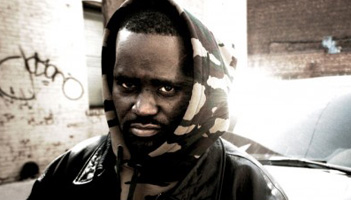 How have reactions on the album been so far?

'Tha Blaqprint' is getting a 'thumbs-up' from everybody.

Could you pick one favorite song from your album?

'Never Goodbye', a tribute song to KL. This song comes from the heart. It's the realest song I have ever wrote.

Whose idea was it to sample Akon in the chorus of 'Ain't Nuthin Changed'?

I wanted an R&B-scratch on the song. We went through a few of them and Akon was the best one.

Premier said 'this album is the piece of the puzzle that balances everything out'. What did he mean by it according to you?

Premo feels that there is nothing out there like this, my music balances everything out.

What's the secret to your chemistry?

Ill beats recognize real rhymes! It was just a matter of time before we put it all on display.

Define 'the essence of hip-hop'?

Hardcore, street poetry like Mele Mel and Kool G Rap.

Jay-Z made the 'Blueprint' album a few years back also trying to (re)define hip-hop…?

Jay-Z made the 'Blueprint', I made 'Tha Blaqprint' and it has nothing to do with Jay-Z. I got the Blaqprint to this hardcore shit.

How has the Queensbridge scene changed since the late 80's?

As times change, everything changes, it all stays the same. The hood will always be with different rhymes and different styles. It's always gonna be that next nigga coming out of Queensbridge.

On 'Beat You Down' you aimed at KRS-One, twenty years later you made a track with him. What's the story behind you and KRS coming together on a record?

Marley called Premier and said he was working on the album and they wanted me on it. At first, I wasn't with it. Then I thought about it more, and said it will be a good look for hip-hop.

Are you still down with Rockwell Noel?

We are still in contact with each other. That's my nigga for life.

Do you still do 'the Wop'?

I never did the Wop, actually. That was just a record that Noel wanted to do and I was a team player.

How did you get with Hot Day?

Hot Day and me came up together. My pops and his pops were friends. He was the next Marley Marl coming out of the hood, so it was only right for him and me to get busy.

Are you still in touch?

Yes, we talk all the time.

How do you feel about the current state of hip-hop?

Hip-hop is spread out. There's so many different styles of hip-hop...I'm happy to see hip-hop go in so many different directions.

How did the death of KL affect your view on making music?

It was a tragic inspiration. It makes me want to go 200% harder on you bitch ass niggaz.

How's Screwball doing?

Screwball is alive and well...we go Ty Nitty from Infamous Mobb...Scape from Boston, Kyron and myself.

What's the first rap album(s) you bought?

I can't remember that... Too much Henny...

What's the last album(s) you uploaded unto your iPod?

I don't have an iPod.

What's next for Blaq Poet?

Screwball must attack soon. I got top secret stuff I'm working on. Stay tuned!!

Shout-outs?

Shout out to everybody that bought the album, gonna buy the album and fuck all you bitch ass niggaz!
POSTED 07|01|2009
conducted by Cpf & Wulf