featured interview
Fresh Daily
Shhhh...
Mobb Deep rapped about the Trife Life, Tash had his Rap Life and 2Pac was the personification of Thug Life, but with his latest free project Brooklyn's Fresh Daily introduces us to The Quiet Life...uh?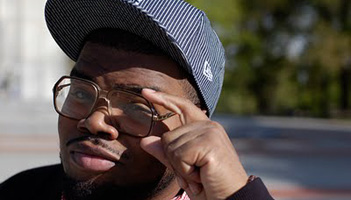 What's so great about the Quiet Life?

The Quiet life is just you living your life with your ambitions realized. Maybe not necessarily accomplished but realized. Maturely doing what you were meant to do.

Have we forgotten to long for it?

We have forgotten to long for the stillness in life I think. Especially in this genre where our success is judged by how many trivial material things we accrue.

'When the noise subsides, slip into The Quiet Life'...what do you experience as 'noise'?

Primarily life's distractions, such as drama's, trials, grinding for success is often.

Your music has a lot of postivism, actually a lot of hip-hop these days breathes positivism, where they used to talk about how bad life is, now rappers are talkin about how good life is... How would you explain that trend?

I think it's positivism that keeps us sane, civil creatures because life can be very negative and pessimistic at times. I come from the very bottom so when things are bad for me I know they could always be worse. That perspective keeps me humble as well in the midst of any accolades and accomplishments.

What can people, who haven't downloaded it yet, expect of this album? Someone on Twitter described it as "it made me want to have a picnic on a private island with a #WAVVY chick"?

I mean, really, it's just a relaxed feel. Perfect for spring and summertime. If it had a taste, it'd probably taste like fish tacos and frozen mojitos on the beach.

What's your secret for keeping it fresh, daily?

Quality control and consistence.

How did you get with Shuko?

He sent me beats over 2 years ago. I don't know if this is possible, but they were TOO good. Like, almost intimidating to rap over, but he's a Fresh Daily fan apparently and heard me on his beats. He followed through when he came to NY and we made some music. Now it would appear we're working on an entire project!

You make cartoons?

I don't animate, but sure I draw all the time.

What's the latest gadget you bought?

Honestly, headphones.

What's the latest rap record(s) you bought?

Honestly, Lupe Fiasco's 'The Cool'.

What other projects can we expect from you soon?

A project produced by DJ Spinna.
POSTED 05|19|2011
conducted by cpf