featured interview
Falside
The Creative Capital Beatsmith
Just like Michael Jackson's fifth solo album, Falside is off the wall, whether we're talking about his beats, video's or Twitter posts. While being in high school, the creative capital beatsmith already made beats for Vast Aire. He went on to produce for prolific MC's such as El Da Sensei, Copywrite, Jeru The Damaja, Pacewon, PackFM, Planet Asia and Slaine of La Coka Nostra. Anno 2011, the Providence producer impressed with his instrumental album 'Snare Conditioning', a feature on Stalley's 'Lincoln Way Nights' and 'The Mechanics EP' with Juan Deuce...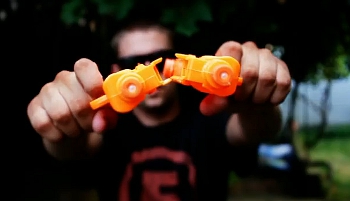 You're an early twentier but you already did production for a lot of big names, what's your secret?

My secret? Dr. Dre is my biological father and I stole his address book. That helps. I corner every artist I produce for with a baseball bat and demand verses. Works every time.

(laughs) In an interview with our magazine Vast Aire said about you: 'He's got a dope ass sound and I will be working with him again. People forget that RZA was a nobody.'...

Well, Vast Aire basically called me a 'nobody' which I was at the time. But I guess any 'nobody' who can juggle oranges could be the next David Blaine, so I guess that's cool.

You were still in high school when you produced a track for Vast Aire...how impressed were your school mates?

Impressed is the wrong word. They were more like 'Who is Vast Aire?' and 'Why are you sitting at our table again?' My peers in the Providence scene were more 'impressed' I guess.

You also lived in Boston. Was moving to Boston a big step forward for your musical career?

Yeah, it had its ups and downs. I was able to meet a lot of great people and built some strong relationships. It definitley helped. I would like to spend a year living in every major city. But I live in Providence now.

You work with different MC's, from Stalley to Slaine to C Rayz Walz, how do you approach these different 'projects'?

I just try to make the MC feel comfortable. My goal is to submit beats that makes the MC want to rap on, not just nod his head to. Everybody is different. Some are afraid to step outside the box, and some will do anything.

What lessons did you learn from J-Zone's book 'Root For The Villain'?

There are a lot of shitty people on this planet. Respect your elders, and keep it moving.

Can we ever expect a book from you?

Oh man, who knows. I've already writted a romance novel but nobody wants to publish it. It's called 'Handful of Beef'.

Video killed the radio star, but do you see a lot of good video's passing by these days?

I am fortunate enough to work with my favorite director, Nicolas Heller of Ricky Shabazz and the Boom Bap Boys. He makes the best hip-hop video's hands down. He will probobly send me an angry text for saying that, but the kid's got talent. Google him. There is a lot of wack video work out there, his shit is refreshing. Check out nicolasheller.com.

Does it ever appear that you make the video first and the song afterwards?

I like to start a video after the song is done.

Can we ever expect a movie from you?

I'm already in a movie with Cam'ron called 'Falside + Cam'ron get coffee'.

What makes 'State Property 2' a good movie?

What doesn't make 'State Property 2' a good movie?

There were a lot of instrumental albums again last year, how do you explain the amount and -especially- the quality of those releases?

There is a lot of talent out there, and a lot of shitty shit. I'm not the source for this question. I guess it's up to the listener. I just hoped they like 'Snare Conditioning'.

Do your beats differ from whether they are made by the help of coffee or they are made without?

Coffee is my cure. I drink it all day long. I never put too much thought into how it helps my creative process, but I'm sure it fits in somewhere.

You worked with Jeru the Damaja, but at the other hand you worked with some unknown rappers or rappers that weren't that famous at the time...is there any MC that you saw growing a lot, becoming famous in a short period?

Action Bronson. When we worked on 'Imported Goods' in 2009, blogs literally e-mailed me back telling me they wouldn't post it because he was unknown. Now he is an underground hip-hop household name.

Welcome on Tumblr...how hard is it to manage all these social media channels? Do you sometimes fear not having time enough to make beats?

The only thing I fear is another parking ticket. It's not hard to find a good balance, I guess I'm just decent at multi-tasking. http://snareconditioning.tumblr.com

What's the first rap record you bought?

Beck – 'Odelay'.

What's next for Falside?

I'm working on a new full length album with Juan Deuce, I'm working on a self-produced mixtape with 2dopeboyz, Juan Deuce has his 'No Sweat' mixtape dropping, Ricky Shabazz and the Boom Bap Boys have 'Free Shabazz 2' dropping, I'm working on a full length instrumental album, and EP, and a remix project with J57 of the Brown Bag Allstars.

What makes you and Juan Deuce click?

Deuce is just as off the wall as I am. He can literally rap over anything and make it sound incredible. It's dope to make music with your best friend, you should try it. Our approach to this shit is identical. We aren't trying to be anything, we are just making awesome music that we love. Fans seem to love it as well. We are having fun.
POSTED 01|17|2012
conducted by cpf