featured interview
Luv NY
Big Apple's Best
How cool would it be if Kool Keith, Roc Marciano, A.G., O.C., Kurious, Dave Dar and Ray West would be making a record together? Dream no longer. Some of the best Big Apple emcees that have ever touched the mic, joined forces for 'Luv NY'. Their record is soon to be released on French label Ascetic Music and New York's Red Apples 45.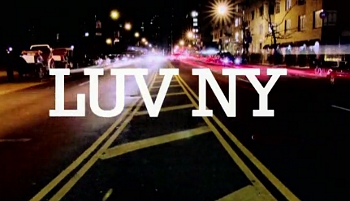 You guys together ain't nuthin but a supergroup. But which supergroups in rap music history do you like yourselves?

Ray West: DITC
AG: NWA
Kurious: Wu-Tang Clan
Roc Marciano: The Firm
Dave Dar: Crooklyn Dodgers
Kool Keith: DITC

How did this supergroup come together?

Ray West: The concept came together because we were all working in Red Apples Studio around the same time. Everybody would hear each other's stuff and be in and out. I started collecting songs, and we started doing collaborations.

AG: Me and Ray West came up with the name Luv NY years ago. We were already talking about making a group...the idea was on stash.

So there were like any auditions?

Ray West: No auditions, only family.

What's the idea behind Luv NY?

Ray West: It's really just perspective. Everyone is from a different part of the city. Everyone got their own thing.

AG: It was done out of love for the culture.

You're rap veterans. How do younger NY rappers look up to you?

Kool Keith: They always asking me about the 'biz'. They look at me as someone who is still on the starting line-up. Even though I've been playing for years.

Kurious: Young NY rappers are just like me when I was young, so I can totally relate.

What can we expect from the album?

AG: Pure creative approach.

How was the first time you got together in the studio?

Ray West: All the sessions were dope. Everyone was really amped to link up.

AG: The first time with Kool Keith in the lab was cool. His energy is dope! Me and Roc Marciano just connect easily, it's always a pleasure.

Kurious: Working with AG and Kool Keith is authentic!

How do you start writing a song if you're that many lyricists?

Ray West: Everyone vibes off the music. Everyone chooses the beats they feel and come together on topics.

You've been all in the game for quite some time...how addicitve is making rap music?

AG: My environment is inspiration.

Kool Keith: It's what I do. I'm always recording, and making new music.

Roc Marciano: Making fly shit all day!

You've all released quite a bit of records. What are some of your fav records of each other?

Roc Marciano: OC – 'Born To Live', AG - 'Next Level', Ultramagnetic MC's – 'Funky', Kurious – 'Uptown Shit'.

AG: OC – 'Time's Up', Roc Marciano – 'Snow', Kool Keith aka Dr Dooom - 'Leave Me Alone'.

Dave Dar: OC – 'Jewels', Roc Marciano – 'Snow', Ultramagnetic MC's – 'Ego Trippin'.

Kurious: Ultramagnetic MC's – 'Ego Trippin', Roc Marciano – 'Marcberg', the whole LP just banging in the whip heavy!

Kool Keith: AG on that orange DITC LP, the hard joint, can't remember the title, but that's my joint!

Are you touring together?

AG: Everyone involved has personal projects, so timing could be an issue. Butif it worked out for everyone, it would be real dope! All of us on stage at the same time, would be big!

Suppose there was a spot left for the group? Who would you pick?

Roc Marciano: Ka!

What more can we expect from you guys?

AG : Music.



POSTED 05|18|2012
conducted by cpf