featured interview
Illogic captures the sun:
'Just as the sun rises and falls, so do situations of life.'
'You always have to look forward to the next rise. I hope that my music and life is an example of that.' Illogic loves imagery. With word play, proverbs, metaphors and double layers, the Columbus, Ohio lyricist challenges the listener. 'Capture The Sun', his latest album produced by Blockhead, captures the attentive ear and triggers one to think deeper. 'I always was a student of lyricism.', Illogic explains, 'I enjoyed the puzzles of words. I hope to offer the same experience to people that listen to me.'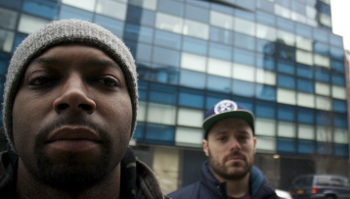 Love and Hate

You've worked for two and a half to three years on the record. Wasn't it hard to remain focused on the concept?

No, it wasn't hard at all. The concept of the record is one that I have had in my mind for a few years before I even started working on the actual album. Once Blockhead agreed to produce it, it was on. I had a few songs written before I even got the beats, so I was already on with the concept. The concept is so near to my heart that it was surprisingly easy to remain focused.

Which songs were finished first?

'Neva heard', 'One Way Ticket', 'Atlantis Depth' and my part of 'Lighthouse'. There were other songs that didn't actually make the album that were also done early.

I like the metaphors on the record a lot, one more abstract than the other. Do you keep a list of metaphors?

No, but I have a good memory most of the time. Metaphors come to me and I try to remember them. I don't really write them down per se.

Where do you get your inspiration?

All around me. I am a good listener and a people watcher. I always pay attention to my surroundings. I write about how the world around me affects me and the people in it.

As a kid you learned French and read the dictionary...do you still reap the fruits of that?

Not so much with the French as with the dictionary. I only remember a few French words. I still read the dictionary for fun on occasion. Just to stay sharp with my vocabulary. I was taught the power of words and language and I take that to heart. I am trying to ever expand my personal knowledge of the English language.

What's the most beautiful English word?

I would say there are two: 'Love' and 'Hate'. Both words expand the gambit of human existence and emotions. For every thing in life we operate under a level of love and/or hate. They can be the most beautiful words or the most ugly.

FUN

When you re-read your lyrics, do you sometimes scrap or re-formulate phrases or metaphors because the listener wouldn't have a clue?

No. That would take the fun out of it. It's also the most frustrating part of my writing, because there are very few people that actually study the music of the people they listen to. I always was a student of lyricism. I listen to find the little nuances of lines and inflection. I broke lines down by word choice and word tense. I enjoyed the puzzles of words. I hope to offer the same experience to people that listen to me.

A few weeks ago you said you hadn't listened to the album for weeks. Then you would approach it from a fan's perspective. What were some of your conclusions?

I found that it's really a good record. Not just because I made the album. It is a great piece of art and it has great replay value. I thought that my grandmother would be proud.

The album is dedicated to your grandma. What song of the record would your grandmother have liked the most?

Probably 'Last Breath (Family Fabric)' because she knows the story personally.

Could you explain what that track means to you?

This is actually the song that took me the longest to write. It was a two year's process. The reason is that I had the first two verses done and then a few years later my parents got divorced. So I had to complete the story. It helped me to understand their relationship and help them to know that life happens but love is eternal.

Have your children heard the record?

Well, they have heard everything from inception to completion, so they probably don't listen to it now as much as they did during the process. Their favorite record of mine is 'Diabolical Fun'. They listen to that one more than any other.

FAITH

You say the overall message of the album is 'Chase your dreams' and 'Life now'. But the album also expresses a lot of doubts, irony, dark edges. 'My dreams and hopes are in a basket', you rhyme. What's your secret to defeat those objects between reality and dreams?

Faith. Chasing dreams is not easy. There are always times of doubt if the right decision is being made. The way to overcome doubt is to not let your faith waver too much. You have to believe that you can do what you have set your mind to. There will always be pitfalls and shortcomings but if you believe, then you can achieve your goals. Just keep working.

Ohio has something with the dream theme. Blueprint and Ill Poetic also have a patent on it. Is it local culture or typical American?

It's a human cultural thing. We all have dreams and goals that we want to achieve. Unfortunately not everyone is in an environment that nurtures dreaming and doing the impossible.?When people have an environment that encourages to dream big and to go after those dreams then that's what happens. It's not just Columbus, Ohio.

Although you're making music, how important is silence in your life?

Extremely important. I have three children so there are days when I just want to sit in my studio with a cup of coffee and just be. I usually get that silence in my daily prayer time. I try to wake up pretty early and read the bible and pray so I get a few hours of silence everyday. Without that time I don't think I could function.?

On a musical level...how do you see your sun?

Ultimately I see my 'sun' shining bright and as a guide of the highs and lows of life. Just as the sun rises and falls, so do the situations of life. Sometimes you're up and sometimes you're down but you don't stay down. You always have to look forward to the next rise. I hope that my music and life is an example of that.

What's next for you?

Blueprint and I are working on more Greenhouse material. I also have a few solo EP's of an experimental nature waiting in the wings. I will be hitting the road with Blueprint this summer, so be on the look out. Check out my website www.illogicmusic.com for details.
POSTED 05|09|2013
conducted by cpf