featured interview
Factor on new LP:
'It's a light-at-the-end-of-the-tunnel'-dark album.'
Tragic, death, grief. We all have to deal with it in life. In the sacred year 1969, American-Swiss therapist Elisabeth Kubler-Ross hypothesized five stages of grief. Little would she know then forty-four years later, a Canadian producer would use her theory as an inspiration source for a concept album. No stranger to challenge, Factor surrounded himself with his fav rappers to relate the story of a man -played by Kirby Dominant- struggling with the reality of his wife's death.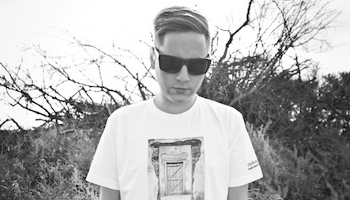 Your album deals with the five phases of grief. I don't think there is any other hip-hop album that does the same...

I don't think so either.

Where did the idea come from?

It came from a combination of ideas. I knew I didn't want to make another compilation-style album so my goal was to do a concept record. I had a few different ideas but once I kind of laid out the story, this concept seemed to work best.

Did you have a plan on how to work out the album?

It was a different process for me. I had to really think about how the music could fit the mood and who the best character was for each part of the story. This album definitely took the most pre-planning for me thus far. I also did some research on the topic but it isn't regular reading material.

How did you transpond the desired setting towards the featuring emcees?

When I first approached everyone, I gave them the overall idea of the story and the character that I thought would work best for them. I worked with artists I knew from over the years, doing shows, tours, collabs etc. so I was able to have an idea of what would work.

The main emcee is Kirby Dominant. Why was he the best protagonist?

Kirby worked well on so many levels for the protagonist. We not only wanted to continue promoting 'Paranoid Castle' but he is also my homie. I think he was able to really bring the freshest approach to the main character.

In what way would you compare yourself to a director when you make a concept album like that?

I had the overall vision of the album and characters. I think I was sitting in the director's chair more than usual (laughs)

You worked with Myka9 again on this album...

Myka is one of the most original emcees in the game...ever. He is constantly bringing new styles and dope ideas. I always wanna work with Myka whenever I can.

What music was an inspiration for making this album?

I have really been goin back to my late 60-70's Psych rock collection in the last year or so...

Your music is evolving towards live instrumentation. Is it easier or more difficult to set an atmosphere for your music as opposed to using samples?

I am torn. I love samples...always will, but I also love working with the Chandeliers (Factor's band, ed.) and session players. I think whatever is best for the project and song is how I have been looking at it. I do think it is sometimes harder to set an atmosphere with instrumentation. Really hard to say. Depends on the situation.

The theme is dark. The album is made in the Winter. The video was shot in the snow. Why release it in the Summer?

It is 'a light-at-the-end-of-the-tunnel dark'. But I know what you're saying. I feel the project is more like a movie or play or something, so it doesn't matter that it has a winter vibe and it is being released in summer.

Your going on tour in August?

I'm excited to hit the road across Canada. This tour will be with 'Factor and the Chandeliers' with special guests. The show will consist of me deejaying, mixing my own productions as well as bass by Enver Hampton and guitar/violin by Levitron. The tour will aslo feature vocals from Kay the Aquanaut and Jeans Boots who are the newest members of 'The Chandeliers'. We will also have visuals and special guest emcees in every city we are rocking. We always have a good time on the road!

'Woke Up Alone' drops July 23rd on Fake Four Inc.
POSTED 07|15|2013
conducted by cpf