featured interview
Aceyalone:
'People always want you to appear in the box they see you through.'
'Action' is Aceyalone's eleventh album. His fourth with L.A. producer Bionik. More figures: it's been twenty years since the first Project Blowed album appeared. It was on the tenth anniversary record of this infamous open mic project that Bionik and Aceyalone worked together for the first time. Now ten more years later, the two West Coast veterans continue their quest to cross all music frontiers. 'Action' is not like any other Aceyalone record. Just like any other Aceyalone record ain't nothing like any other.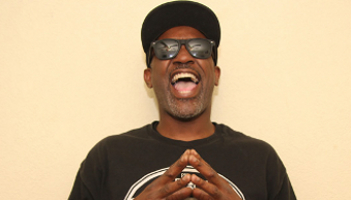 This is the fourth album with Bionik. What make you two click so well?

He gets it.

How do you prepare for these genre-breaking albums?

I listen to everything. I like rhyming over anything. No preparation needed. I'm a M.C, the rhythm is the back drop. I follow music through all its transformations and forms, from then till now. People seem to always want you to appear in the box they see you through. Nah, you don't know shit. Just what they tell you! (laughs)

How much of an influence was Egyptian Lover for this record?

How you get that ? (laughs) Big up to a West Coast Legend but none! I did wanna do 'And My Beat goes Boom' over.

Releasing a new Freestyle Fellowship album: did it gave you new angles/inspiration for your solo work/way of working?

Not really. Crew business is different

Is there an album of yours you think is slept on?

All of them.

There was a Project Blowed compilation in 1995, 2005, so in 2015 there will be one too?

Project Blowed stand up! #BenCaldwell #Leimertpark #2132310 #worldwide

How do you look back on those twenty years?

Humble.

You're over forty, how do you stay young, beautiful and inspired?

I laugh at you guys a lot ...and pray!

What is the next step for you?

I'm gonna make another 'genre' album with a 'concept' about new genres. Respect the art !
POSTED 04|12|2015
conducted by cpf