featured interview
Blueprint:
'The Bomb Squad was my biggest influence.'
Is there anyone who takes this art form more serious than Blueprint? With every album the Ohio emcee/producer drops, his devotion grows stronger. Blueprint doesn't rap for fun. He raps like every rhyme puts his life on the line. 'King No Crown', Print's fourth solo album, is choked with passion, respect, and dedication: 'I try to be the voice of my entire generation, not just the smartest slave on the plantation.'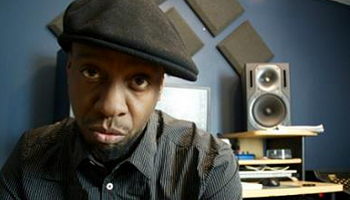 If a musician steps up to you and asks for advice. What is the main advice you give them?

I tell them to practice their craft until they can't be denied. A lot of younger artists want to be successful, but they don't truly understand how much time they need to put into it to make a career out of it.

They also need to study the originators. Imagine a young producer listening to Dilla all day. Would that be enough?

No. It's a good start. But to really understand production, they should study all the people who influenced the people they're listening to. So if they're listening to Dilla, they should also understand how big of an influence Q-Tip and Pete Rock were on his style. Then by studying Pete Rock, they will be lead to Marley Marl. Starting and stopping at Dilla is a little lazy in my opinion.

Who are the originators you learnt from?

When I was getting into production, the first producers I actually studied were Pete Rock, The Bomb Squad, and Erick Sermon. Those guys made me want to understand records and digging more, which led me to getting my crates up and becoming more serious about my craft. The biggest influence on me was probably the Bomb Squad because they taught me that sample-based music can be like a collage. You can take a lot of things from different places and make them work together if you've got an open mind and a good ear. I try to practice that a lot in my music.

Are you inspired by the originators on the level of lyricism?

My biggest inspirations on that level are KRS-ONE and Chuck D. They inspire me to tell the truth in my rhymes and to always present my rhymes in a way that can be understood. Neither of them was too wordy. And they always took the most direct route to getting their point across.

In the beginning of one's career it's obvious that an artist searches for his own style. When did you feel like you were really 'you' for the first time in your music?

Some days I'm not 100% sure I've ever completely got where I want to go yet. I do believe I have a style vocally, but as a producer I am always evolving and searching for styles that I haven't done yet. That makes me feel as though I will always be a work in progress. Plus, I also think my style evolves as I evolve as a person.

It's a lot easier for me to write when I know that I don't have to worry about the production side of things, which can be time consuming, you said fifteen years ago. Does the writing or producing take less time nowadays? In the last four years you released three solo albums?

Production definitely takes less time nowadays, but I think it's a bi-product of me getting more serious about my craft. Once I got sober I started finding it a lot easier to finish projects that I'm producing. It's still much easier for me to just step in and rhyme over somebody else's production. But my workflow on beats has sped up a lot lately. Once I was able to crank out beats faster, I was also able to crank out rhymes and songs. My output is pretty high right now.

Do you feel more secure about your writing, now you're older?

Definitely. Becoming more secure in who I am as a person makes it much easier to write about certain topics. The benefit of getting older is that it gives you more perspective. When you're younger, you're still a little worried about what people think but not when you're older. When you're older, you just want to speak your truths.

There's a tribute song about Eyedea on the record. Slug said 'he felt a pressure from the fans to write a song about Eyedea, but that it was easy to write it down. He could've made 20 songs about Eyedea.'

I agree with him on the pressure from fans. As a writer, I could write twenty songs, but emotionally I couldn't do it because the toll would be too high. It was tough to write and record that one song, so I'm not sure I could do more.

The press release reads 'your most personal album'. That's incredible, because you already cut deep on previous records. What makes it so personal?

'King No Crown' is more personal to me because it actually catalogs exactly what I was going through at the time I wrote it. My father was sick. My brother was sick and was living with me. I was dealing with Eyedea's passing. I had just gotten sober and was trying to adjust socially.

But there was also a great deal of positivity going on in my career that validated why I go through so much to do this. This was right after 'Adventures in Counter-Culture' was released so my career was taking off again. Everything in my career was popping but I still had a lot to deal with and I chose to do that in song.

What's the idea behind having no pauses or silence between the songs on the record?

It's been in the back of my mind for many years and I always wanted to try it. I thought it would be a big challenge if I could pull it off. I'm really happy with it.

We saw you live for the first time in 2011 here in Brussels with the Rhymesayers tour. Do you remember that gig?

Yup.

You were really focused and concentrated. So you take the same attitude from the studio out on stage, right?

For sure. I don't really rock a show like anybody else does anymore. To me, there's something that I want people to get out of it. So I put together my live shows in a very methodical way.

The record released through Weightless Recordings. What's the difference between putting out an album on your own label and releasing one through RhymeSayers?

The biggest difference between those situations is that there's more work on Weightless, but the reward is higher because I own everything. Rhymesayers is a huge platform, but I am strictly an artist on that platform, not an owner like I am with Weightless Recordings.
POSTED 04|30|2015
conducted by cpf