featured interview
Tame One
Quick Q&A with the New Jeruz All-Star
The notty-headed terror from Brick City, O.G. Bobby Johnson aka Tame One, known for his numerous collaborations with El Da Sensei (as The Artifacts), the Boom Skwad, the Weathermen, Xing N Fox or even Slow Suicide Stimulus, is now focusing on his solo work again. After two solo albums, the former Eastern Conference signee doubles that figure in 2008. The first one, 'Ol Jersey Bastard' is a dedication to you-know-who, the second one, entitled 'Acid Tab Vocab', is being released digitally through Amalgam Digital next month.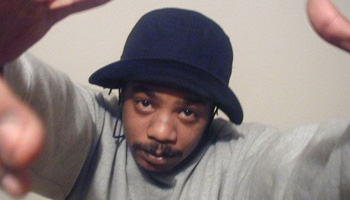 You have two new projects coming out. Why did you decide to release two albums in such a short time span?

I didn't. I just wanted to fulfill my contractual obligation, which is 2 LP's.

The first one is called 'Da Ol' Jersey Bastard'. To what aspect of ODB's personality or lifestyle do you feel related?

I feel related to his freedom of creativity.

The album is produced by Parallel Thought, how did you get in touch?

They reached out via MySpace. I liked what I heard so we started recording.

Your previous album also had one production team (Xing n Fox): you prefer working like that?

Whoever has the heat...I wanna lace hot beats.

How did the collabs with Del and Sean P come about?

I've known them both since my debut to the industry, so I just called in the favors.

Do you still feel the same excitement for an album release as you did back in the days?

Yeah. I'm excited for any and all of my releases. I enjoy the feedback.

Is there one of the following albums you feel like you have a special bond with? When Rappers Attack / OG Bobby Johnson / Spazmatic / OJB?

No...It's all creative release.

The second album you'll release is called 'Acid Tab Vocab'...

It's against today's norm…some acid tab trippy shit cuz we just havin fun makin music without guidelines.

Personally I could rather imagine you sitting in a big cloud of weed smoke than between people poppin pills...what is it with Tame One and acid?

Nothing. It's just another form of personal indulging.

That album is also entirely and executive produced by Parallel Thought: did the idea for a second album grow while making the first one or did both projects kinda float together in the booth?

Yeah...during recording for the first LP we just kept going.

You being a veteran, is there anything you still did (or could) learn from those relatively young players in the game?

Of course...people don't stop learning.

Could we expect another sound for both the albums or could they as well been released as one double disc?

Totally different.

Why is the album only coming out digitally?

That was a contractual thing...it's a downloading company.

How do you feel about the vinyl (and even CD's) disappearing?

It's fucked up…I'm nostalgic...I'm from the vinyl era.

How did you hook up with the good people at Amalgam Digital?

The current era of the music business is geared towards downloads...I'm trying to stay relevant.

I saw a lot of graf pieces on your MySpace page, you still very active in the graf field or is your skwad representing and keeping your name out?

I'm active. Just not as much as in my youth.

What's up with the Boom Skwad, please tell us who's in it and what they got in they sleeves?

DJ Porno, MC/DJ Gruff Rybo are charter members...it's too many to name right now...Skwad is building...and trying to avoid industry bullshit and make good music.

You've been involved in a lot of projects (Weathermen, Leak Bro's,...). You feel more comfortable when surrounded by fellow emcees or do you prefer the freedom of the solo album?

Either or...as long as I'm creating.

How do you - as a member of the Weathermen – try to handle the death of Camu Tao? How did his passing affect the Weathermen crew?

I was somewhat wrecked behind it...but he had been sick a while so I was expecting a shaky future as far as his recovery. I can't speak for the whole crew...but Camu was a genius and I miss him.

What was the last album you uploaded to your iPod?

'Da Ol Jersey Bastard/AcidTabVocab'

What was the first album (vinyl or cassette) you bought?

Dunno..prolly Run Dmc's first LP.

What is in your fridge door right now?

Food and condiments.

Could you give our readers a shout out in 'Acid Tab Vocab'?

Sure...if they buy it.

Shout outs?

Shouts to Parallel Thought Este Uno BoomSkwad Weathermen, SlowSuicideStimulus and y'all..1.

Peace.
POSTED 08|01|2008
conducted by cpf