featured interview
Willie Evans JR
Introduces himself
But do we really have to? It's the title of his new album on High Water Music, but loyal readers of this magazine will surely know Willie Evans Jr. He's part of The AB's, who dropped the terrific 'And now' album under the name Asamov (before they had to change their group name due to legal issues with the science fiction writer), he produced on Akrobatik and Mr Lif's The Perceptionists, and released the record 'Communication' in the Rawkus 50 series, so.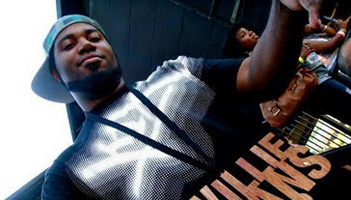 Why 'introduce' yourself?

It was more of a decision that was made by the label. They (rightfully) felt that I was known to a few people but not in the general public. That and the song 'Introducin' went over well in the office.

For those who don't know you: could you briefly introduce yourself?

I am a rap cat that makes music. I'm striving to do it well. Funky chops, quirky raps, visual live show.

You must be the first one who chops music video's with an MPC. Where did you get the idea for the chopped-up Stevie Wonder, The Beatles and Aloe Blacc tracks/video's?

I've been working on those for a while and using them in my live show for a minute. It's something I had been wanting to do for a long time but the way that I ended up doing it kind of fell in my lap.

There's one anachronism in that series of artists...Aloe Blacc?

Totally the blame of Sucio Smash. He literally came to me and was like 'what if you chopped this up?'

It looks like there's more chopped-up video's coming, right?

All I'm going to say is that there is an entire video album done right now. (laughs)

In the introduction of the album you're sent to a music school. You seem not to be able to play any instrument. True story?

(laughs) At this point yes. I take lessons and grew up in a musical family so if it has a sequencer, I can do anything. Otherwise, I'm just a person with ideas. At least for now.

Is it true you wanted to play the drums first?

The truth is that I wanted to play the piano first as a child. My grandmother wouldn't let my aunt teach me though so my pop got me an electric guitar. When someone ran it over in the driveway he gave me his Yamaha Rx-15 drum machine and it was a wrap.

Don't you consider an MPC a real instrument?

Actually it's the complete opposite. With people like Exile and the like out there I think it's safe to assert that the drum machine, specifically the MPC, is an instrument in the traditional sense. But I have always felt that it was an instrument. The thought process in creation is just so different that some traditional instrumentalists will always turn their nose up at it.

So is Clyde Stubblefield your greatest hero?

Well it's actually a tie between James Brown and De La Soul so I guess through the transitive property Clyde would be up there.

De La Soul ('AOI III') and another one of your favourite artists, Kool Keith ('Love & Danger'), will release new albums this year, what do you expect from it?

The dopeness that they always bring.

Let us guess: as a child you read a lot of Marvel comics?

I'm not sure "a lot" properly encompasses the scope of comic book readage I achieved. (laughs)

Let us guess again: you stopped reading Isaac Asimov?

(laughs) Nah, no hard feelings. Honestly, I had only read the classics and the idea for the group name came from a line in one of Paten Locke's rhymes. I called him and was like 'Yo, The Asamov Development Team' and it kind of went from there.

Does rap need more 'nerd rappers'?

Not so much as it needs the ones already doing it to embrace their origins. And trust me, it gets waaay more nerdy than me out there.

What's on your iPod right now?

Don't own one but my phone has a bunch of joints that my little brother is tryin' to put me up on right now. Mostly stuff I'm not to hip on. And Three Six Mafia.

What's next for Willie?

Hopefully the road. I'm ready to show everyone this new set!

Looking forward to it! Thank you sir!

Thanks for listening!
POSTED 07|26|2011
conducted by cpf