featured interview
Ceschi:
'Our decisions are manipulated by those in power.'
Ceschi Ramos' first album in five years, 'Broken Bone Ballads', closes a difficult period in the Fake Four label owner's life. After being incarcerated and battling court on basis of dubious marijuana charges, the Connecticut, New Haven musician has a lot to ventilate. The record encompasses disbelief about the system, struggle for freedom and survival of his music career.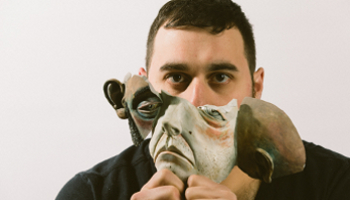 What does freedom mean to you?

That is a huge question that I'll never truly know the answer to. I can only attempt to get closer to living the way I'd like to live without adhering to regulations imposed onto me by those in power. In the end, we are all limited by the laws of nature. We also try to live within boundaries that work for us. These ways of living or thinking are only steps towards freedom. Within the boundaries of any civilization, steps toward freedom can only come with equality and mutual respect for one another.

2Mex once said: 'I go to other places and I see that the US does have some general freedoms. Yet at the same time, this place can be so indulgent, so wrong. I think the United States is soaked in contradiction.' Do you recognize that?

There can be no freedom in a society that favors any type of person over another. That is the problem with America's concept of freedom. We Americans tend to think we're "free" because the state allows us a certain amount of luxuries and does not impose strict regulations on what we say or how much money we make. Obviously that's a farce: we are constantly regulated either by state laws or private corporations who tend to monopolize, control power and impose their own regulations onto us. Whether we realize it or not. We are even regulated by hegemonic concepts that have been ingrained into this system since its founding. Power in America is controlled by very few. Our freedom is controlled by those in power. Our decisions are manipulated by those in power.

Do you feel free when you make music?

As I said before: I have no idea what freedom is, other than living the way you want to under the constraints of civilization and nature. So yes: there are no powers controlling the music I'm making with my friends. It's a space to be free and express myself. Some would argue that that's an American or 'first world luxury'. They may be right. It is definitely a space of freedom.

One possible advantage of being incarcerated is that you're isolated from the fast-paced world outside. In prison you have the time to concentrate?

Absolutely. I wrote every day. If anything, prison is a space with little distraction. In there you tend to be focused on yourself in a way that doesn't necessarily happen on the outside. Outside we're constantly bombarded by information, images, advertisements, noise, technology, and the list goes on.

Was it easy to get into a writing flow? Not too much stress?

There were stressful moments. Especially during moments of lockdown when I wasn't able to contact my loved ones back home or have any communication with the outside world. Watching my bunk mate lose his mother during the end of a week of lockdown. That was super intense and emotional for me to witness.

Traditional music

'Ceschi opened his set by taking a seat and playing a 6-minute long folk song in 6/8 time... at a rap show! I almost passed out.', Louis Logic told us. Is that the effect you want to bring across to people?

(laughs) I don't expect any effect. It's cool when it works though. I try to feel out a crowd. If I notice they are a new audience, I think of songs to catch their attention. If it's a crowd that already knows my material, I'll do a completely different set list. I generally have no expectations though. Just trying to represent my music the best way I can.

Is being not like anyone else also what you're trying to do with Fake Four?

Yeah, that's something I definitely look for in artists or albums. I love plenty of music that is more traditional sounding. I've even had to turn down projects that I like because they don't quite fit the vision of Fake Four. The label is a space for progressive sounds generally within the realms of hip-hop and rock. We are a label that embraces diversity and provides an outlet for sounds that often get overlooked.

Do you often have to deal with artists that struggle with the label's vision?

I've had a difficult time working with a handful of artists on the label. More and more I'm trying to work with personal friends and people I know who care about the survival of the label. Not just their own careers. That's the only way we will survive. We recently had a record taken out of our hands by a major rock band. They made an offer that couldn't be refused. Now we're in the process of attempting to get them -the millionaire rock band- to pay us the small investment we already made on that record. It's a bit frustrating. When I'm out here grinding and playing fucking sports bars in Nebraska waiting on a dude with a net worth in the multi-millions to pay me a few thousand back. But that's how it goes. I've learned it early on.

An interesting release is Bike For Three. Buck65 and Joelle from Greetings From Tuskan aka Canada meets Belgium. How did you get them on Fake Four?

I just had so much respect for Buck 65 since the late 90's, when I first heard Centaur. I did some shows with him back in 2011. That's how we met. Joelle and I also communicated quite a bit. She shared her music with me during the process of creation. She's a brilliant musician. It just made sense.

Focus on own material

Is it true that you bought the first demo tape of Sage Francis?

It is! In 1996 at a hardcore show in New Haven, when I was 15. I bought Sage's first tape called 'Homegrown'. It was a straight edge rap tape and it changed my life.

Do people still call you the indie hip-hop Nate Dogg?

A few people make that reference. But luckily, I've been slowing down on the guest choruses and verses. I'm far more focused on my own material again.

What's next for you?

'Broken Bone Ballads' is out. I'm touring like mad. Surprisingly, I have an entire acoustic split project with Pat The Bunny (of Ramshackle Glory) coming out later this year on the DIY Bandits label. There's no title. Just 13 acoustic songs recorded live by me and the homie, fleshed out with instruments such as accordion, banjo, violin, trumpet, etc.
POSTED 04|28|2015
conducted by cpf