featured interview
eMC:
'Best Tonight Show moment? The Roots doing a Sean Price tribute.'
eMC aka Masta Ace, Stricklin and Wordsworth have been recording together for ten years now. First as a quartet, then -after parting ways with Punchline- as a trio.

A few months ago the group released their second record 'The Tonite Show'. The first time recording as a trio. 'We're all more on the same page creatively.', Wordsworth admits.

Having respect for and understanding one another is their success recipe: 'We could order each other's food if one of us isn't there.'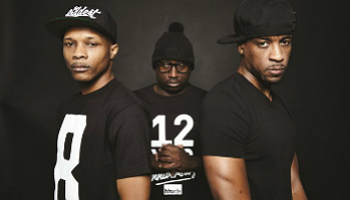 How did the 'Tonite Show' idea pop up?

Wordsworth: After brainstorming to keep 'the show' theme in the title (their previous album was entitled 'The Show', ed.). Similar to what EPMD did with 'Business'. We settled on 'The Tonite Show'. It felt like it had the most possibilities to elaborate on as we were song writing.

Masta Ace: Once we all agreed on the album being called 'The Tonite Show', it was just a matter of writing an interesting storyline around that title.

So how do you go from the theme to the music?

M: The music came first, honestly. We recorded the best songs and then worked out the sequence and skits.

W: In the midst of it, we see how we can weave the theme around it. Ace usually writes the script after hearing a few songs and when the title of a project is determined.

M: After I wrote the script, we had most of the guests just come in and do their parts.

What are your fav concept albums?

W: De la Soul and Dr Dre albums.

This is the first time you released a record as a trio, before you were four. How different is that in the creative process?

W: It's a an easier process because we're all more on the same page creatively.

M: The work load is slightly higher though. The recording is the same as with four members.

What would be the biggest differences in song writing between you three?

M: Words is a lyrical technician with very vivid storytelling skills. Strick has a great ability to add humour to a song without being over the top.

W: I'd say the flows just vary. The main difference may be perspective: we each have three separate lives so that lends to a vast amount of directions to go. But we're pretty similar in painting pictures.

You're travelling a lot together. How do you keep from getting fed up with each other?

W: We don't really get fed up because we know each other's boundaries. We could order each other's food if one of us isn't there.

M: We've been rolling together since 2001. We know each other very well and do a great job of being courteous to each other. Respect is the key. We have that for each other.

Your previous record, 'The Show', was leaked before the actual release date. Were you cautious this time around?

W: I think we were more concerned with having a proper launch plan. We have 5 video's for this project, which worked out well.

What does being signed to Penalty Entertainment mean to you?

M: It means an opportunity to be heard by a larger audience.

What song of the album would you perform on The Tonight Show?

M: (laughs) I would say 'Signtology'.

W: I'd say 'Fly Thoughts' and 'It Ain't Easy'.

What are some of your fav Tonight Show moments?

W: Seeing The Roots do a tribute to Sean Price during a commercial break.

M: I go back to Johnny Carson!



'Tonite Show' dropped May 5, 2015, on Penalty Entertainment. It features Diamond D, B-Real, Sadat X and Xzibit a.o.
POSTED 09|07|2015
conducted by cpf