featured interview
P.SO the Earth Tone King:
'I always liked Dali'
Despite his admiration for Dali's work, P.SO The Earth Tone King named himself after another great Spanish painter: Pablo Picasso. Why the New York lyricist chose to be named after a painter is clear on his latest effort 'Feast Of Legend'. The EP, produced by 2 Hungry Bros, is a showcase of P.SO's ability to toss and juggle with imagery. To paint pictures with words. In what follows, he touches on his new album, Tintin and the African spirit.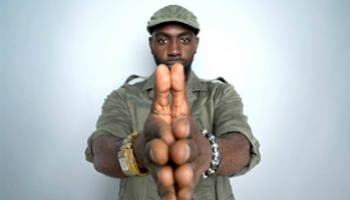 You only started rapping when you were 25 years old. The reason for this was that you didn't have the courage. How come?

I just didn't envision myself as an artist. It's kind of like Mr. Anderson before he became NEO. Until he cracked the Matrix, he didn't understand his destiny.

So do you find courage to perform?

I gained that courage very early in my career. The experience of being on stage is what propels me to rhyme. I just lose myself in the music and I forget about any inhibitions I may have. I started off doing poetry mostly, that progressed into hip-hop.

Your album 'Gateway To Greatness' from 2013 was re-issued last year through HiPNOTT...

I wanted it to be re-issued because the first time I released it, I did it on my own. I felt that it could have reached a broader audience, so I hooked up with HiPNOTT to re-release.

You kept only the best tracks and added others. Why did you change the track list?

Because I had a bunch of songs that I recorded during the time I worked on 'Gateway'. I wanted these songs to see the light of day. So I had to re-arrange the song order a bit to make room for these unreleased records.

The album was released with a 45-page digital comic book?

I've always been a huge comic book fan. I was inspired by the comic that Outkast released with the 'ATLiens' album. My good friend and illustrator Anwar Morse helped me conceive a digital comic. I had the honour of releasing it through digital imprint ComiXoloy. It was a dream come true to combine my hip-hop energy with my comic book energy.

Talking about energy. You're in the gym often. Is it hard to stay healthy with 2 Hungry Bros in the studio?

(laughs) The Hungry Bros like to eat a lot! I try to eat healthy as often as possible. But I also recognize that good food brings people together and can enrich your soul. Deep from 2 Hungry Bros is gluten free and Ben was a vegetarian. We love food! That includes all the healthy stuff.

You quote Stevie Wonder and Marvin Gaye as your influences.

I was raised on Stevie, Marvin and Bob Marley.

Do people like the Hungry Bros -who are heavyweight vinyl collectors- put you on to more illustrious artists?

They pull out a lot of vintage vinyl for their samples. So that definitely influences me.

P.SO is short for Picasso. You paint pictures with words. To do that, you use a lot of metaphors. Do you keep a list of metaphors that you can use in your lyrics?

Absolutely not. I let the feeling hit me and write in the moment. I think using lists and stuff is played out.

Has there ever been a painting that was an inspiration for your music?

I always liked 'The Persistence Of Memory' by Dali. The melting clocks remind me that time is an arbitrary concept.

Besides chocolate, waffles and delicious beers, Belgium is also known for its comic books. Are you familiar with Tintin?

I have heard of Tintin!

Lucky Luke?

Never heard of him. I should look it up for sure!

You've been in Africa last Summer.

My father is from Ghana. I try to go as often as I can.

What are some of the impressions that you bring back home?

What I notice about Africa is that people are very peaceful. There isn't nearly as much interpersonal conflict like we experience here in America. I really love the freedom of spirit and peace of mind I can achieve over there. There's nothing like it!


The EP 'Feast of Legend' is out now on HiPNOTT Records. It features Tanya Morgan and Substantial a.o.
POSTED 09|08|2015
conducted by cpf