featured interview
Kriswontwo:
'Sound waves are some really cool beings'
September 14th marked the release of Kriswontwo's debut full length on SomeOthaShip Connect, the label owned by Georgia Anne Muldrow and Dudley Perkins. On the record -an exquisite collage of rap and soul- the Danish producer serves beats for a variety of refined lyricists such as MED, El Da Sensei, Oh No, Stacy Epps, Georgia Anne Muldrow and UK soul singer Omar a.o.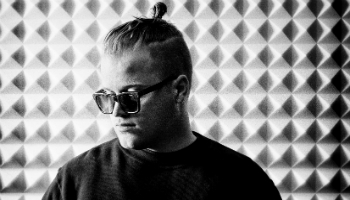 In 2011 you did a song with Georgia Anne Muldrow. How did you connect with her?

I connected with Dudley (Perkins aka Declaime, husband and business partner of Muldrow, ed.) through Facebook. We exchanged ideas and tracks. So we ended up doing a couple of really cool things.

Which lead into the Ms. One EP with Muldrow. I saw a video off it. It was shot right in the studio. So you flew out to America?

Yeah, that was really crazy. I brought a camera with me and just let it record while Georgia finished the last song for the EP. She is genius. We did two other videos as well, you gotta check them out.

I think we had the EP done in a couple of weeks. Georgia is the most professional vocalist I've ever worked with. She knows what she wants and she executes in a really focused way.

That's what Belgian producer Chillow told us too, after working with El Da Sensei: how very focused and efficient he was in the studio. You have the same experience with the other guest artists you've worked with?

Oh yes, I think when you are a true artist, you are focused on what you want to do. You just get stuff done simply because you can't help it. You just got to do it.

So residing with Muldrow and Dudley must've been an enriching experience?

It was. I was just listening most of the time. Trying to learn as much as possible from them. They are the kindest and most creative people I've ever met.

Muldrow is also a producer. There are not that many female producers?

I think there are many really dope female producers.

But they do get less credit?

I don't know why. Tokimonsta is really cool for example. And one of the biggest rap songs ever, Sugar Hill Gang's 'Rappers Delight' was produced by a female producer, Sylvia Robinson.

Did you return to the US to record this album?

No, I did all of this one from Copenhagen.

Your beats are all instrumental. Are you playing instruments yourself?

That's right, just give me any instrument and I will make some heat out of it.

What's the most unusual instrument you ever played for recording?

Actually 'Epiphany of Emcees' off the new album was done with a children's ukulele, it ended up sounding crazy.

'He polishes up his work with great attention to detail', Muldrow says about you?

Yep, mixing is really important to me. Sound waves are some really cool beings.

Your video 'Love Need You' is guided by a poem of Persian poet Rumi?

The director, Rouben Alaverdian, was given free hands with the video, so it was him that came up with the concept after listening to the song.

Do you read often?

I do read a lot. I like to study history. I actually read a lot while I make music.

The record's art work is great?

The painter is Tokio Aoyama. He is a great Japanese artist. Actually, I sent him the instrumentals and then he freestyled while listening to the music. He is so dope. Then when he sent it back, I called the album 'Ceremonia', because that's what I think he painted.

The album title has a spiritual dimension. 'My religion is rap', Guru said. Would that go for you too?

Music is very spiritual to me. I don't know if it's a religion. A lot of religious people are very narrow-minded. But I would rather use music to open people's minds.
POSTED 09|15|2015
conducted by cpf