featured interview
Factor:
'I focus more on mixing and editing now'
Three years after his last, conceptual album 'Woke Up Alone', Canadian producer Factor returns with a new record that circles around one central theme: the failed city of Factoria, an industrial dream blown to smithereens due to the economic recession of the first world war.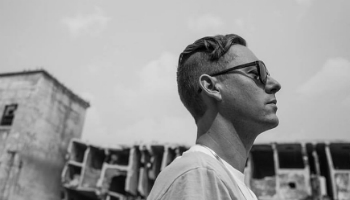 The Magic City

'Factoria' is a concept album. What's the most fun part about building up an album around one certain idea?

The fact that you get to use and draw creativity from a source that you don't always use. Something new and fresh. For instance, this album was focused on the feeling of the building and demise of a city. I was able to incorporate more industrial sounds and soundscapes with progression and building in mind.

Your last concept album 'Woke Up Alone' took a lot of pre-planning. What about this time?

The preparation time on 'Woke Up Alone' was a lot more intense than on 'Factoria'. The new album has more of a loose building concept and for the most part I had a vibe in my head for how I wanted the beats to sound. It wasn't as much pre-planning with the story. But more with getting the sound right. This time, I took more time in the mixing and editing stages of the record.

How did you come up with the idea?

The idea for 'Factoria' came from an actual place in Saskatoon's history. It was a real city. In 1913 they set out to make this industrial city which ultimately failed due to a typhoid outbreak and the economic slowdown of WW1. To this day you can go and see the ruins.

The resemblance with your artist name, Factor, is coincidence?

It could have been tied in with ?Factoria? subconsciously. Because when I was growing up I always walked by this historical sign behind my house with information about Factoria ?The Magic City? in the north end of Saskatoon.

Don?t push it

You release less music than you used to. Are you making less music nowadays or are you keeping a lot of stuff unreleased?

I think for me it is important to make less quantity of music and focusing on the details and mixing. I am still productive but I wish I had a big stash of unreleased music. That being said, I do have some new stuff in the works I am really proud of.

Is it more difficult to focus on the music making part while growing older?

Yeah, life commitments seem to come up more often but I have been learning how to budget my time better. It is something I am trying to learn more every day.

So how do you stay focused on making music?

Lately for me, making new music has been: don't push it and don't create when you?re not feeling like it.

Record store day

You?re coming to Europe later this year. How do people in Saskatoon look at Europe?

People in Saskatoon love hearing about Europe. Very respected: art, history, food, culture etc. A lot of people from here haven't been lucky enough to travel to Europe, so it is a big deal for travel, to perform.

?People in Europe appreciate underground music more than in the United States? is a response we hear often from US musicians. How?s that for Canada?

I think Europe and Canada have a lot of extra love for the alternative/underground movements in all genres. I think a big difference between Europe and Saskatchewan (Canada) is just how important and ingrained the arts are from a young age.

Saturday April 16th is Record Store Day. You used to own this record store called Kno-Static. Now that vinyl is becoming more popular, would you consider open up a record shop again?

I gotta say, even now vinyl is becoming more popular, I don't think I will consider re-opening a shop again. It was a lot of fun but I don't think it is my ?calling?. That being said I have a couple releases I am going to scoop up Saturday!


?Factoria? is out now on Fake Four Records and features Paranoid Castle, Open Mike Eagle, Gregory Pepper, AWOL One, Ceschi, Kay the Aquanaut, Evil Ebenezer, Myka 9, Merkules, and more.

POSTED 04|15|2016
conducted by cpf