featured interview
Distrakt
Let him distrakt you
His last year album 'Distraktions' was praised by many, but also ignored by many. As one of the underground's most promising emcees, the appeal of his work lays in its self-dependency. Raps, beats, mastering, everything is done by this Colorado Spings representative himself, leaving a record that breathes authenticity and commitment.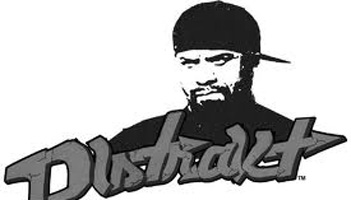 Wassup Distrakt?

Maintaining.

What were the hardest distractions while recording the album?

Nothing. Everything came naturally.

How do you try to distract your listener?

Being original and not doing what everybody else is doing.

Can we gather from the song 'Drugs' that music is the biggest distraction from everyday life?

'Drugs' is a metaphoric song about my addiction and side effects to authentic hip-hop. Like to say thank you to DJ Kool Herc, Afrika Bambaataa, Grandmaster Flash and Grand Wizard Theodore for being some of the founding fathers of hip hop.

It must be the first time that the grind, the hustle is compared to a woman, where did you get the idea from?

Actually it came to me while I was with this one bad female. The more I grinded the more she took off. I started saying to myself 'I'm grinding this up like I'm on the block getting the doe right' and that's when it dawned that I just wrote a song.

What role does the Internet play in your everyday hustle?

Communications around the globe is such a beautiful thing. You still need to get out there and shake some hands and let the people know that it's true and living.

A lot of songs on the album clock in at 2 min - 2,5 min, what's the reason behind the short time span?

That's the Distrakt style. Once I get your attention and say what I want to say I'm done. Distrakt is an emcee that doesn't waste time. Like to get in and get out.

What's your favourite fish?

Pretty much all of the phantasmagoria fishes in the abyss of the sea.

I'm probably searchin it way too far, but is the 'Fish Grease' song somehow inspired on the Alliance's 'Fish Heads'?

(laughs) Nah it's basically inspired by all of the drama in the world.

How much is the beat of 'Nothing Worst' DJ Premier-inspired?

'Nothing Worst' was inspired by my surroundings.

How did you land a deal with Fat Beats?

Just sent them the CD. Meditated to God and got blessed.

Since you're doing everything, from MC-ing to producing to Dj-ing to promoting, how do you organize yourself?

Passion.

You've worked with Ant, is there any chance we gonna see Distrakt on an Atmosphere album?

Ant and another brother by the name of Steve the Vocalist was the first producers to record me on a 4 track back in the day. It would be dope to rock on an Atmosphere album, but they got everything pretty much covered. Who knows, only time will tell.

This album didn't but is the next album gonna have guests on it?

Yeah, some of my friends in the game will be on this one.

What more can we expect from the next album?

The Unorthodox.

Are there gonna be guest producers too?

No. Distrakt is the producer to check for.

How did you get in contact with Prince Po?

Through Myspace.

On March 21 you're sharing the stage with Slick Rick the Ruler, what do you expect from it, have you met the Ruler yet?

True school. Never met him before, but looking forward to it.

What's Slick Rick's best album?

'Great Adventures of Slick Rick'.

What other rap legends have you shared the stage with recently?

A lot. Kool Keith, MF Doom, De La Soul to name a few.

One of your trademarks is performin with a mic that, literally, smokes. How was the idea of rockin with a smoking mic on stage born?

Everybody was always talking about smoking the mic so I went ahead set it on fire and actually did it.

I see you have a little Distrakt doll just like the Madvilain doll, is it for sale somewhere?

It was a limited run that was only offered on http://myspace.com/distrakt

What's happening in Colorado Springs?

Dope emcees.

Anyone we gotta look out for?

Too many to name, but the ones making moves you'll hear about.

Ever been to Europe?

No. Looking forward to it though.

What was the first rap record you bought?

I would clean up my grandmothers' bar and she had a Jukebox with all types of 45's that she would give to me as payment for cleaning. Afrika Bambaataa and Soul Sonic Force the Renegades of Funk 45 was one of my first owned records.

What were the last few rap albums you bought?

Really just been focusing on making music.

Are you a record collector, like lookin out for rare records and dollar-bin finds or just collectin for beats?

I love good music, so I listen to everything. Never really hunt for rare records, because most of the rare records I got found me.

Can you listen to a soul/funk album without focusing on finding a sample/loop?

All day. When you listen to so much music you begin to know what's good and what's not.

What was the weirdest/most inconvenient record you ever sampled from?

A metal master record plate with wired jazz-fusion on it that I found at an estate sale in Crown Heights.

Would you ever trade your SP-1200 for an MPC?

No. But I can use both of the machines to make a wild style beat. They got their own sound that is raw.

When and how did you start producing?

I started off producing beats by doing pause tapes. Then writing rhymes to sloppy loops. It forced me to have a dynamic drunk flow.

What's next for Distrakt?

Continuing to be a defender of true school. Regardless of the state of hip- hop I'm going to do my part to add on what's good and inspire people to be there best.

Shout-outs?

Thank you Platform8470 for giving me the opportunity to expand. Blessed to be a part of your archives of authentic emcees with skill and style. Go visit the Distrakt websites: http://www.distrakt.com , http://www.myspace.com/distrakt .

Aight thanks Distrakt!
POSTED 03|01|2007
conducted by cpf