featured interview
Kurious
Why the monkey is still constipated
Remember that fine piece of hip-hop art dropping in 1994 on Columbia? Nah, for once we?re not talking about Nas? ?Illmatic?, but Kurious Jorge?s ?A Constipated Monkey?. After some guest spots on Powerule?s ?Volume 1? and Pete Nice & Daddy Rich?s ?Dust To Dust?, Jorge ?Spell IT With A J? Alvarez aka Kurious released his first and, until now, last full LP. Nearly fifteen years later, Amalgam re-issued the much praised Beatnuts-produced album, while anticipating a new Kurious album coming soon.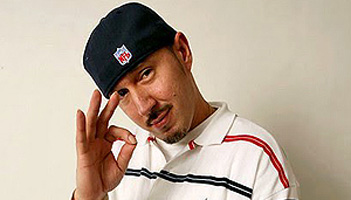 Do you look at the re-issue of ?A Constipated Monkey? as the official comeback of Kurious Jorge?

Yeah why not? I mean yeah this is official because I?ve become Amalgamated.

Why Amalgam?

Because I felt like they?re some real hip-hop dudes and they understood me as an artist and that era. They came from that era and they are about their business and they?re ready to move onto the next movement.

With the album there?s a demo EP with some songs that have never been released before, were they to be released on the original Constipated Monkey album?

Well nah nothing is supposed to be?... they could have been but we didn?t want to make the album too long. Some of them are really old.

The monkey on your back on the cover, was it yours?

Yeah, that shit was real!

Why was he constipated?

Why it was constipated? I don?t really know, but he was real though. That monkey ain?t mine.

You still ?Walk Like A Duck? from times to times?

Walk like a duck is for people who act like ducks. If they?re a duck they need to walk like one?... and step off.

Was Samson your pet dog or was it a ?dawg?, as in ?a friend??

It?s a dog. A real dog.

What?s Lucien up to these days?

I think he?s in France doing well now.

If I?m correct your first appearance on a record was on the Powerule album, how did you get with those guys?

I met them through Bobbito.

What do you remember of the recording sessions?

The sessions were crazy. It was so many people?... friends of friends?... I?d be in the studio and VCR?s would come out missing and Colombia (Records, ed) would call me up and I didn?t even know. TV?s and shit like that?... would just walk outta there.

Why and when did you decide to go out and start rappin?

I don?t know?... I walked outside and started rapping. I?ve been rhyming since around 1985.

Did you read a lot of Curious George comic books as a youngster?

Nah I didn?t. My mom used to fucking read me that shit. Bobbito gave me the name and then it just stuck. I don?t even like the cartoon on TV I like the books better.

What was the first rap album you bought?

Whoa! Let me think?... I forgot the name of the album but it was the Sugar Hill Gang?... prior to that, people were just making singles, but Sugar Hill Gang had an album.

Word is out you had an album before ?A Constipated Monkey?, entitled ?Jorge From The Projects??...

Nah, I never had an album prior to ?A Constipated Monkey?. People were just messin up and wanted to call it other things but I never had another album.

Main One?s ?El Gran Combo? is a Puerto Rican rappers? anthem I?ll always remember?... you were part of that too?...

I had a lot of lot of fun that day in the studio?... it was cool, it was fresh.

Do you feel more Puerto Rican than Cuban or?...?

At different times I feel more of each one?... When I?m in New York I feel more puerto Rican, when I?m in Florida I feel more Cuban?...

You released the 12?? ?All Great? in 2001, it was produced by Celph Titled, DJ Fisher hooked you up with him right? How did you get with Fisher?

That came through my man MF Grimm.

Will there be some more Celph Titled productions for Kurious in the future?

Could be possibly?... I haven?t seen him since that day though. That was like 2001.

What can we expect from the new album? Besides MF Doom, who will feature?

I don?t really like throwin people names before the verse is done. Rob Love on the beats... my man Rob Love and VIC.

Can we expect some Beatnuts production?

I?m not sure. If it was up to me, hell yeah.

You featured on the Operation Doomsday album and again on Doom?s ?King Gheedorah? as ?Biolante?, what?s the difference between the rapper Biolante and the rapper Kurious Jorge?

I don?t know nothing about that Biolante man. I know as much as you do with that shit and what it means. But in Spanish Biolante means ?Get In Front??... So I wanna ?biolante??...know what I?m sayin?

There are plans for a Kurious shirt company?...how did that idea come together?

Me and my man DJ Next from Amalgam Digital came up with that shit. It?s a side project we got in the works.

I heard you?re a fan of Stella Artois, where do you get that beer in the US? What other Belgian beer do they sell over there?

Man, if Colt 45 is Belgian, then they sell it. I don?t really keep track of where the beer is from.

You were supposed to do a tour to Germany, Switzerland AND Belgium a few years ago?...

I never went. I?ve never been overseas.

Will you ever?

I?ll be out there for the first time Oct. 25 for a few days to play a show.

What?s next for Kurious?

A new album, man, and new adventures.

Shout-outs?

Amalgam Digital, shout out to the whole shit man?... and the whole world.

Thanks!
POSTED 10|01|2007
conducted by cpf